Chevrolet Sonic Repair Manual: Rear Compartment Lid Lock Cylinder Coding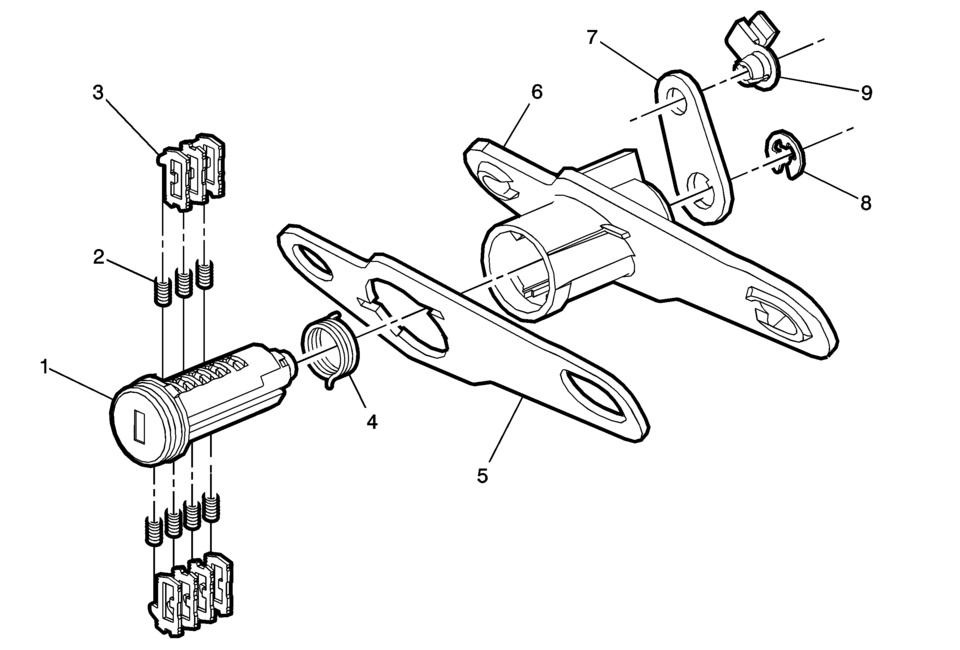 The rear compartment lid lock cylinder uses 7 of the 7 cut positions. The tumbler positions are staggered from side to side, 4 on one side and 3 on the other, are not self-retaining, and are not snap in.
Note:

All lock cylinders for side milled keys have right and left tumblers. The location of the tooth of the tumbler determines whether it is right or left. Illustrations in this procedure show the right tumblers on the top and the left tumblers on the bottom. All tumblers are marked 1R, 1L, 2R, or 2L. The number being cut depth and the letter meaning right or left.

Tumbler spring (2) and tumbler (3) are to be assembled into the cylinder (1). In this case start with the tumbler nearest the cylinder head and work through until the last tumbler at the base. Use the key as a tool by pushing it in step by step to hold the already assembled tumblers in place.
Check the correct loading of the tumblers by inserting the key into the cylinder. All tumblers should be flush with the lock cylinder body.
Assemble the restoring spring (4) onto the rear of the cylinder.
Tape the pad (5) onto the housing (6).
Grease the housing.
Insert the lock cylinder (1) into the housing (6). Remove the key from the cylinder.
Install the lever (7) onto the end of the cylinder (1).
Attach the E-ring (8) to the cylinder, then crimp it to retain the lever assembly.
Snap the rod retainer (9) into the hole in the lever (7).
Insert the key into the lock and function the lock to check for proper assembly and smooth operation.
The ignition lock cylinder uses 8 key cut positions, 1–8. The ignition cylinder tumblers (3) are located on alternate sides of the cylinder (5). They are not snap-in and ar ...
Rear Side Door Lock Cylinder Opening Cover Replacement Callout Component Name 1 Rear Side Door Lock Cylinder Opening Cov ...
Other materials:
Roof Outer Panel Replacement (5HB)
Removal Procedure Warning: Refer to Approved Equipment for Collision Repair Warning. Disable the SIR system. Refer to SIR Disabling and Enabling. Disconnect the negative battery cable. Refer to Battery Negative Cable Disconnection and Connection. Remove all ...
Seat Belt Service Precautions
Note: If the vehicle has been in a collision, refer to Repairs and Inspections Required After a Collision for additional information. Do not bleach or dye the seat belt webbing. Use only the following items in order to clean the seat belt webbing: A mild soap and water ...
Replacing Airbag System Parts after a Crash
Warning: A crash can damage the airbag systems in the vehicle. A damaged airbag system may not work properly and may not protect you and your passenger(s) in a crash, resulting in serious injury or even death. To help make sure the airbag systems are working properly after a crash, have ...
© 2014-2019 Copyright www.csmans.com