Chevrolet Sonic Repair Manual: Brake Fluid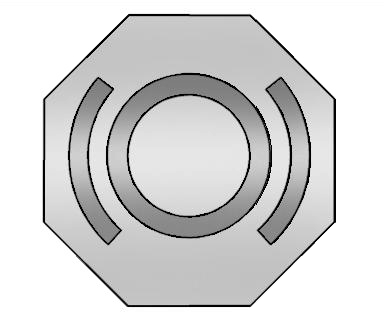 The brake/clutch master cylinder reservoir is filled with DOT 3 brake fluid as indicated on the reservoir cap. See Engine Compartment Overview for the location of the reservoir.
There are only two reasons why the fluid level in the reservoir might go down:
The fluid level goes down because of normal brake lining wear. When new linings are installed, the fluid level goes back up.
A fluid leak in the brake/clutch hydraulic system can also cause a low fluid level. Have the brake/clutch hydraulic system fixed, since a leak means that sooner or later the brakes and/or clutch will not work well.
Do not top off the brake/clutch fluid. Adding fluid does not correct a leak. If fluid is added when the linings are worn, there will be too much fluid when new brake linings are installed. Add or remove brake fluid, as necessary, only when work is done on the brake/clutch hydraulic system.
Warning:
If too much brake fluid is added, it can spill on the engine and burn, if the engine is hot enough. You or others could be burned, and the vehicle could be damaged. Add brake fluid only when work is done on the brake/clutch hydraulic system.
When the brake/clutch fluid falls to a low level, the brake warning light comes on. See Brake System Warning Light.
What to Add
Use only new DOT 3 brake fluid from a sealed container. See Recommended Fluids and Lubricants.
Always clean the brake/clutch fluid reservoir cap and the area around the cap before removing it. This helps keep dirt from entering the reservoir.
Warning:
With the wrong kind of fluid in the brake/clutch hydraulic system, the brakes might not work well. This could cause a crash. Always use the proper brake/clutch fluid.
Notice:
Using the wrong fluid can badly damage brake/clutch hydraulic system parts. For example, just a few drops of mineral-based oil, such as engine oil, in the brake hydraulic system can damage brake hydraulic system parts so badly that they will have to be replaced. Do not let someone put in the wrong kind of fluid.
If brake fluid is spilled on the vehicle's painted surfaces, the paint finish can be damaged. Be careful not to spill brake fluid on the vehicle. If you do, wash it off immediately.
Warning: Avoid taking the following actions when you service wheel brake parts: Do not grind brake linings. Do not sand brake linings. Do not clean wheel brake parts with a dry brus ...
Caution: Avoid spilling brake fluid onto painted surfaces, electrical connections, wiring, or cables. Brake fluid will damage painted surfaces and cause corrosion to electrical components. If ...
Other materials:
Electric Power Steering
The vehicle has electric power steering. It does not have power steering fluid. Regular maintenance is not required. If power steering assist is lost due to a system malfunction, the vehicle can be steered, but may require increased effort. See your dealer if there is a problem. If the steerin ...
Sunroof Window Height and Opening Fit Adjustment
Note: Correct adjustment cannot be achieved if the sunroof window is closed from vent position. Cycle the sunroof window from full open to closed position. ., Note: Do Not remove or lower headliner to access sunroof window screws. Loosen the adjusting screws on ...
Park Brake and P (Park) Mechanism Check
Warning: When you are doing this check, the vehicle could begin to move. You or others could be injured and property could be damaged. Make sure there is room in front of the vehicle in case it begins to roll. Be ready to apply the regular brake at once should the vehicle begin to move. ...
В© 2014-2023 Copyright www.csmans.com
0.007