Chevrolet Sonic Repair Manual: Lubrication Description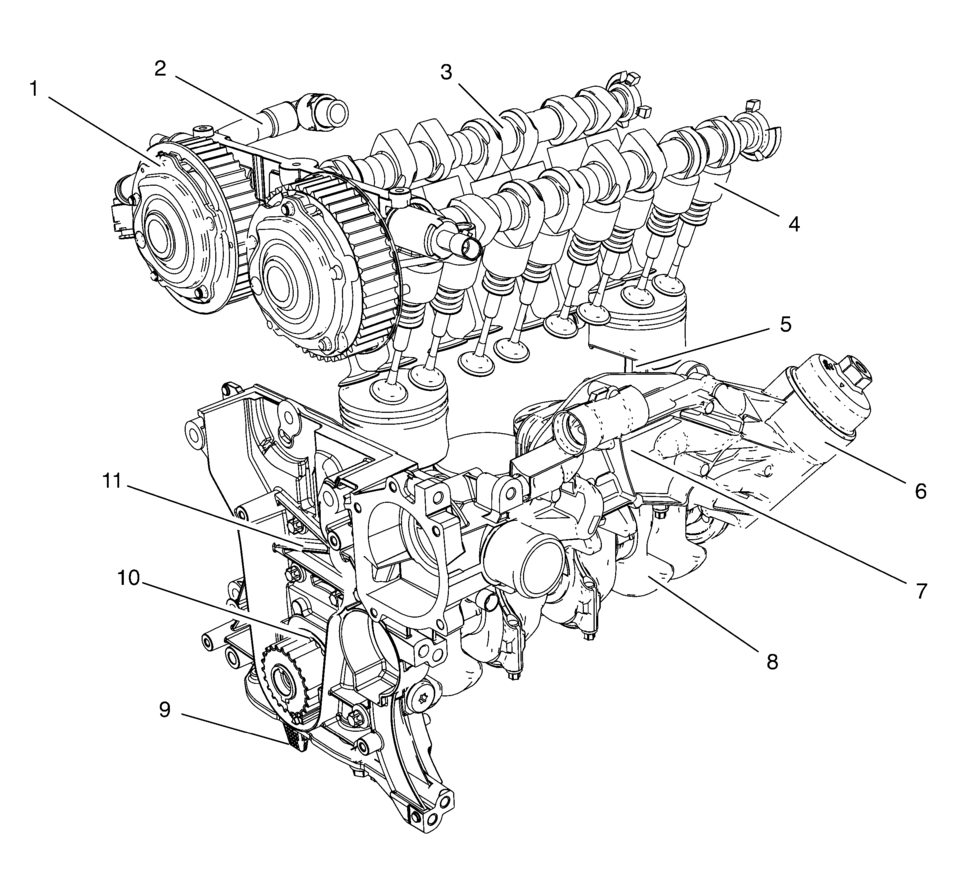 Oil is applied under pressure to the crankshaft (8), connecting rods (5), camshaft adjuster (1), camshaft bearing surfaces (3) and valve tappets (4). All other moving parts are lubricated by gravity flow or splash. Oil enters the rotor type oil pump (10) through a fixed inlet screen (9). The oil pump is driven by the crankshaft. The oil pump body is within the engine front cover (11). The pressurized oil from the pump passes through the oil cooling system and the oil filter (6). The oil filter is integrated with the oil cooling system housing (7) that is connected to the front of the engine block. The oil filter is a disposable cartridge type. A by-pass valve in the filter cap allows continuous oil flow in case the oil filter should become restricted. The connecting rod bearings are oiled by constant oil flow passages through the crankshaft connecting the main journals to the rod journals. A groove around each upper main bearing furnishes oil to the drilled crankshaft passages. The pressurized oil passes through the cylinder head restrictor orifice into the cylinder head and then into each camshaft feed gallery. An engine oil pressure switch or sensor is installed at the end. Oil returns to the oil pan through passages cast into the cylinder head. The crankcase ventilation system does not contain to the lubrication system, but to the oil circuit. It is used to consume crankcase vapors in the combustion process instead of venting them to atmosphere. Fresh air from the intake system is supplied to the crankcase, mixed with blow by gases and then passed through a calibrated orifice of the crankcase ventilation tube (2) into the intake manifold.
Removal Procedure Disconnect the negative battery cable. Refer to Battery Negative Cable Disconnection and Connection. Raise and support the vehicle. Refer to Lifting and Jacking ...
When the gear selector is moved to the Neutral (N) position, the hydraulic and electrical system operation is identical to Park (P) range. However, if Neutral is selected after the vehicle was ope ...
Other materials:
Tire Terminology and Definitions
Air Pressure: The amount of air inside the tire pressing outward on each square inch of the tire. Air pressure is expressed in kPa (kilopascal) or psi (pounds per square inch). Accessory Weight: The combined weight of optional accessories. Some examples of optional accessories are automatic t ...
Adhesives, Fluids, Lubricants, and Sealers
Adhesives, Fluids, Lubricants, and Sealers Application Type of Material GM Part Number United States Canada Wheels Valve Stem TPM Mounting Lubricant 9985709 ...
Turbocharger System Description
12 (1) Turbocharger Bypass Solenoid Valve (2) Multifunction Intake Air Sensor (3) Turbocharger Wastegate Regulator Solenoid Valve (4) Turbocharger (5) Turbocharger Bypass Valve (6) Turbocharger Was ...
В© 2014-2022 Copyright www.csmans.com
0.0091